Update Configuration File - Shortcuts to create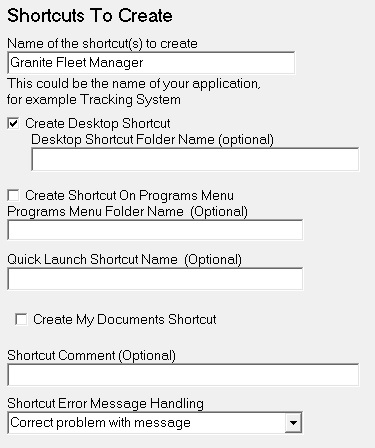 Name of the shortcut(s) to create
Name of the shortcut to be created on the Desktop or the Common Desktop. This could be the name of your application such as Granite Fleet Manager
Create Desktop Shortcut
Desktop Shortcut Folder Name (optional)
This can be useful for crowded desktops.
Create Shortcut On Programs
Create shortcut on users Start >> All Programs menu
Programs Menu Folder Name
Name of the folder to be created on the users Start >> Programs menu. Must be used in conjunction with Create Shortcut On Desktop or Create Shortcut On Common Desktop
Quick Launch Shortcut Name (Optional)
Used if you want to create a shortcut in the Users Quick Launch task bar. If empty or not present this item will be ignored.
Shortcut Comment
Text to be placed in the shortcut comment field which the user can view by hovering over the shortcut.
Shortcut Error Message Handling (Optional)
Display message and do not correct problem (Default)

Correct problem with message

Correct problem with no message to user

Users will change things which they shouldn't be mucking with. Or you may decide to move the folders in which various files reside. This option will allow you to fix the the shortcut or batch/command file without even telling them. The utility will continue executing after displaying these messages.
Remarks
You can also use environment variables in the Target Folder, Server and shortcut lines. These must have %s around them. These are the same variables you can see when you run the SET command in the command prompt window. Examples would be %APPDATA%, %USERPROFILE%, %HOMEDRIVE% or %HOMEPATH%