Update Configuration File - Workgroup File Settings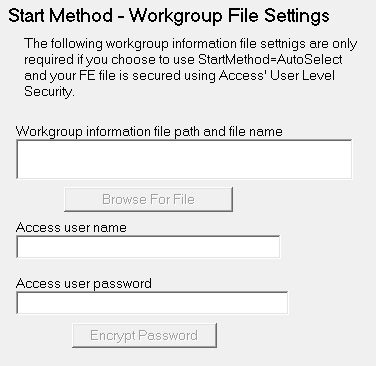 The following MDW entries are only required if you choose to use the Start Method set to Auto Select and your Access FE database file is using Access' User Level Security. These are also required if you want to view the users in a secured backend Access database file.
Workgroup information file path and file name
This contains the path and name of the MDW file which you used to secure the Access front end MDB. This should be kept on the server as suggest by fellow Access MVPs who know a lot more about Access user level security than I do.
Note that you may also need to pass the path and name of the MDW file to Access. Thus you will want to have a Command Line option similar to
/wrkgrp "\\server\share\My Access directory\security.mdw"
If there are any spaces in the folder path you will have to put double quotes around the path and file name.
Access user name
This needs to be an Access account which can have very limited rights to the Access front end database file. Just enough rights so the Auto FE updater can open the front end Access database file to determine what version of Access it should start executing
Access user password
Note that when you click on the Encrypt Password command button or run this utility for the first time it will replace the password with the text "(Password is encrypted)" and create an MDWPasswordEncrypted entry in the configuration file. Should you decide to change the password in the future replace "(Password is encrypted)" with your clear text password. The utility will automatically update the MDW Password Encrypted setting to the new encrypted password.