"The Publisher could not be verified" message
Q: I'm getting a "Open File - Security Warning: The publisher could not be verified. Are you sure you want to run this software?" message.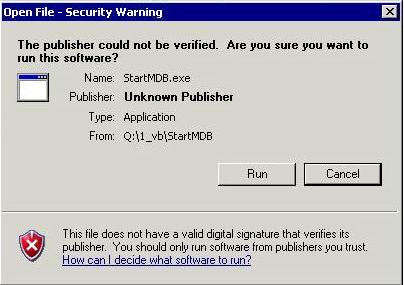 A You can now specify the Add Server to local Intranet Zone option..
Old answer.
I thought that purchasing a code signing certificate would fix this answer. I was wrong. Instead that red x now becomes an orange x.
Old old answer follows:
: This is an operating system message.
**** WARNING ****
For the following solutions I'm not experienced in Windows security. The following could leave your system or network more vulnerable to hostile activities such as viruses or malware. Now the problem with this approach is that every executable installed on the server is now automatically trusted. And anyone could load an executable from a thumb drive.
A. If this is in a domain you can change group policy. Run gpedit.msc Go to User Configuration >> Administrative Templates >> Windows Components >> Attachment Manager
Add "*.exe" to the "Inclusion list for moderate risk file types" setting. "This policy setting allows you to configure the list of moderate risk file types. If the attachment is in the list of moderate risk file types and is from the restricted or Internet zone, Windows prompts the user before accessing the file. ..."
In other words, this allows you to run an .exe from the Intranet zone without a prompt, but it will warn before running one from the Internet.
A. Alternatively on individual workstations you can tell Windows that the server on which the Auto FE Updater is loaded is a trusted location.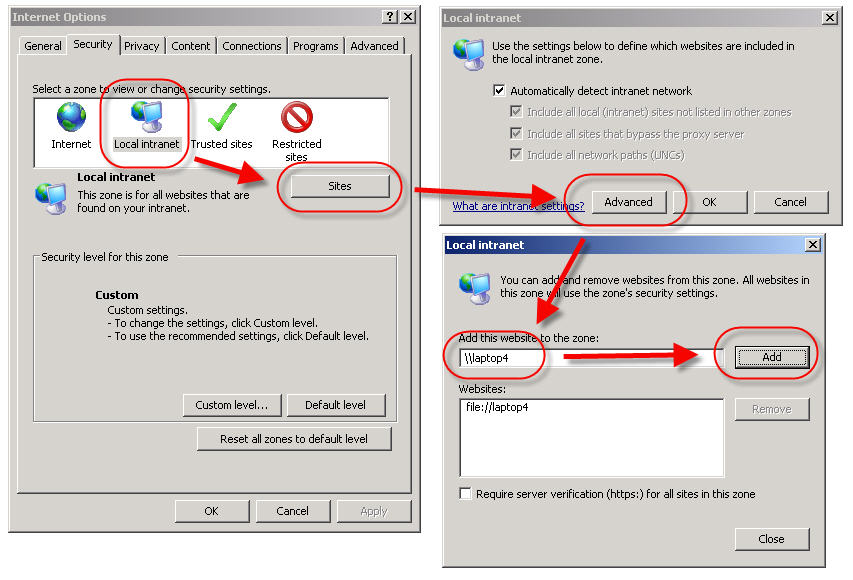 Internet Explorer >> Tools >> Internet Options >> Security tab >> Local Intranet icon and select Sites. Click on the Advanced button. If required deselect Require server verification (https) for all sites in this zone. Then add your server or domain, including the \\, to the Add this website to the zone box and click on Add. You should then see something like file://<servername> in the websites list box.
You may get a message asking if you want to move this from your Local Sites. That's fine.